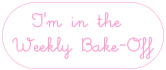 ...I was really chuffed when I found out what this week's Bake-Off Challenge was...I had been planning on making some of these on Thursday or Friday as the smallish people would be on Easter Hols then!!! They are something I have never made before...so it will be a first time attempt at them...do you want to know what they are?...
One a Penny, Two a Penny
...Hot Cross Buns!! and just in time to practice for Easter!!...
As you may remember from my first "Weekly Bake-Off" post Amy is working her way through all 100 of the recipes in Mary Berry's '100 Cakes and Bakes', and is allowing some others to tag along...This week's recipe is something I had always fancied trying, but never got around to...now I have the excuse to go for it...But straight away there was a proverbial spanner in the works!! The bread flour cupboard was bare!!! So it was plain flour (450g) I reached for instead! As this was the case, I decided to give it a hand by 'starting the yeast off' So into a bowl went one 7g sachet of fast action dried yeast, 150ml warm milk and a couple Tbsp caster sugar (taken from 50g for recipe)...
I left this to "brew" whilst I got on with weighing and measuring everything else out!! And 10 mins later this was the result...a Bubbly, yeasty bowl of goodness...
The rest was now ready for the liquid to be added, so to my flour I had added: 1tsp each of mixed spice and cinnamon (Mary says to add nutmeg - but I forgot!!). Then there was the rest of the sugar and a tsp salt...
I mixed it up a bit, and to that I added The bubbly yeast mix, a beaten egg, 5Tbsp warm water, 50g cooled melted butter, 150g raisins and 50g craisins (there I go tweaking again!!) I didn't add the peel, as I'm not keen!
This was mixed until it formed a soft dough, tipped out on a floured surface and kneaded for about 10mins until it became smooth and elastic...then I popped it back into the bowl, covered it with some oiled cling film and popped it in the conservatory (it was lovely and warm in there today) to prove...an hour and a half later and...
...it had doubled in size, and was ready for another, shorter kneading (5 mins was enough) session...then the dough was split into 19 pieces, rolled into balls and placed on a baking tray covered in parchment...I saw the 'tear n' share' idea in a freebie Sainsburys magazine, and thought I would give that a go. Which also meant we would get smaller buns in the end...perfect for smaller people to nibble on!
These were then left for another 30 mins or so...until they double in size again...Then using some plain flour and caster sugar with a drop of water mixed in, I made a thick paste which I piped onto the top of the buns...Mary says to either cut a cross in the top of each bun, or to add pastry crosses, neither of which took my fancy, so I googled how to make the crosses and came up with this mix of methods for a paste cross...
...then I popped them into a preheated oven Gas7/220c for about 15 mins or until the bottom of the buns sounds hollow when tapped...of course turning them over to check was a challenge, but I managed without breaking them apart!!!
They looked good when they came out of the oven, but not great...
However a quick glaze made from equal amounts of caster sugar and water (melt the sugar in the water on a low heat) brushed over the top made them look fantastic...
...We couldn't wait to try them....
...They smelt delicious...
...and tasted amazing!! So much so, the smallish people said they were better than the ones we normally buy in M&S!!! High praise indeed...we just had ours warm from the oven with a bit of butter on top, but they've already asked if they would be allowed some toasted for breakfast tomorrow!!
Overall I am really pleased with this bake, I thought it was going to be fiddly and time consuming, but as long as you make them on a day you're at home you can just get on with other bits and pieces while they prove...My advice...have a go...and next time...I'm thinking apple and cinnamon ones...
Here are the last 2...they didn't last long, and when we make our next batch for Good Friday, we'll be adding a bit more fruit!!