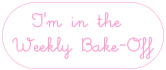 ....I have recently joined in the Weekly Bake-Off Challenge... The whole thing was started a while ago by Amy, who set herself the challenge of working through all 100 recipes in Mary Berry's "100 cakes and Bakes", but rather than take on the challenge alone, Amy challenged others to join in...and that's what many do...including myself now...Amy tweets the new challenge every Monday, and then we have a week to try it and send photos to her...You also have to own a copy of the book, as no recipes are given out...just the name and page number...
So, to this weeks bake,
Apricot Swiss Cakes
...(which can be found on page 71 of the book)
After reading how others had got on with the recipe, it seemed to me that very very soft butter was the way forward...The recipe uses an awful lot of butter...in fact the name is a bit deceiving, as these are much more like a cakey version of Viennese Whirls...
You have to whizzzzz the butter, I actually warmed mine in the microwave, not to the point of melting, just until very soft! Add in a small amount of icing sugar. (These are going to be very rich and crumbly I think!!)
Next you add some self-raising flour and cornflour and mix...I found folding it in was best, then a final whizzzz to make sure it was well and truly blended!!
Now for the bit that some have been finding tricky...you need to pipe the mixture into the cake cases using a large star nozzle...I only had a small/medium nozzle, but managed ok...I think the extra softened butter really helped, as I had no difficulty piping it in...
They don't take long to cook, about 15-20 mins total...15 in my oven! But a word of warning...make sure they are cool before transferring to the cooling rack, they are very crumbly and rather delicate!!
I was pleased to see that the star shaped piping had survived the cooking/rising process...and that you could still see a nice little swirl effect...
All that left was adding a spoonful of jam to the middle of each one (I've used a mix of apricot and strawberry jam, as we have fussy people in our house!!) and dusting with icing sugar...Oh, and testing them of course!!
They are very crumbly, very buttery, very moreish little cake-biscuits...