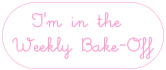 For those of you just joining us here at Sew Appetising, "The Weekly Bake-Off Challenge" is run by Amy...she is trying to work her way through all 100 of the bakes in the Mary Berry Book..."100 Cakes and Bakes"...and as Amy is such a sharing person, she opened her little challenge up to all of us...so anyone can take part if they just contact her first...This will be the 4th Challenge I have taken part in, and this week it's a tray-bake...
...in fact it is Mary Berry's

Ginger and Treacle Spiced Tray Bake

...
This is such an easy bake, an all-in-one mix and a simple icing to boot!!...The only tricky part is getting the stem ginger in syrup...but supermarkets stock it...as I found out...when I read the recipe for this cake I immediately thought of my late Nan...she loved stem ginger...and I bet she would have loved this cake too...so this one is for you Nan...xx
The recipe is in Mary's Book as I said before...(obviously)...but I also found it on the Woman's Hour Website...
Step 1, put all the ingredients into the bowl of your mixer (or just a great big bowl if making by hand...) Mary gives a tip for weighing the treacle...weigh on top of one of the other ingredients, that way it won't stick to the bottom of the bowl when being mixed in!! Good tip, and it worked...
Step 2, Spread the mix into a tray - mine was 13x8 inches, Mary reccomends 12x9 inches, I figured it would be ok...
Step 3, Bake in the middle of a preheated oven at Gas 4/180c for about 35-40 mins, I started checking mine at 30 mins as I know my oven likes to "do it's own thing" and so mine was cooked bang on the 35 minute mark...
Step 4, leave to cool in the tin/tray for a good 5-10 minutes before turning out to cool off completely...and then it happened!!!
As I was trimming mine into a nice straight-sided bake, an earthquake happened!! Ok not an actual earthquake! But the effects looked like one had!! My cake tried desperately to split right down the middle...so...
...it was onto Step 5, the icing, in the hope it would hold the cake together!! The icing is simply some of the syrup from the ginger jar and icing sugar combined...and it spreads really well...decorate with a little of the ginger chopped finely and your bake is done!!
...I was amazed at how light and fluffy the texture was, considering the gooey treacle in it...and it tasted lovely...not too heavy, not too spicy (with the ginger) and the icing finished it off beautifully...
I know I say this quite a lot, but this s one that will be going on the "bake again" list...